Preload & RAPs
The preload can be adjusted with an electric Remote Adjustable Preload (RAP) or a manual RAP. The electric RAP typically comes with the RoadWing and is part of the set-up on the Honda Gold Wing.
The RAP can stiffen or soften the ride. It does lift the bike, a little but that is not the main purpose of it. Ideally, adding a RoadWing increases the weight capacity improves handling and eliminates the bottoming out issue with the original Road Star suspension.
Electric RAP
In order to use the electric RAP you will need to create or purchase a harness. Chris Jones (the creator of the RoadWing) makes and sells them.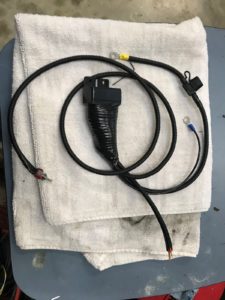 Below is an image created by Chris Jones with the set-up of the harness that he created and offers for sale. You can build your own, if desired.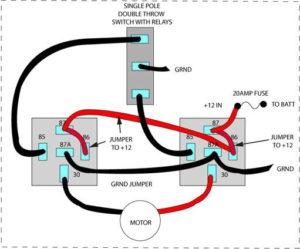 Parts & Supply List
Single pole double throw switch
Two (2) 5-pin universal relays
Red and Black wire 14g (length will depend on how long you want your lead to your switch)
20 amp inline fuse
Connector for the Honda connection (Chris sells his with a plug and play connection). If you are building your own you can splice any old connector in or get the Honda connector here
Soldering Iron and solder
Heat Shrink tubing
Black Tape
Wire looming
Some guys have had success using a Double Pole Double Throw switch (DPDT). If you google it you will find lots of details on how to create one. It is much cheaper to create. You should always use fuse on the positive side.
Locating the electric RAP will differ between the 99-07 (carburated) and 08-14 (fuel injected) models. I have an 04 but if I had an 08-14, I would go with the manual RAP. Details & suggestions for a mount location of the electric RAP for both models is found on the install instructions page.
Housing the electric RAP
Manual RAP
Since the the manual RAP comes from a used BMW rear mono shock on a 650, 1100, 1150 or 1200 they are extra. You can also use the RAP from a Suzuki Burgman AN400, or 03-09 Honda 1300. The Burgman RAP requires modification. Sometimes the guys that convert them have them or you can search for one on eBay. Suggested mounting locations for the manual RAP can be found on the install instructions page.
Kris Koehler makes and sells a this one. It is made from part of the electric RAP.
Mounting the manual RAP
Bleed and install your RAP
BMW
Suzuki Burman