Hyper Flash LED Fix
Hyper flash occurs when you swap out one or more of your stock blinker bulbs for an LED blinker bulb. It also occurs with the Kuryakyn Run, Turn, Brake module. This solution will correct both hyper flash conditions. It is all I needed to correct either. Kuryakyn includes a load equalizer but it is not needed to correct  hyper flash when this fix is in place.
I cannot claim credit for this fix. I found a few different posts on Facebook that explained how to do it.
NOTE: You will not hear a clicking when it blinks and you will lose the auto cancel feature on the blinker.
Parts List
Hyper flash fix module
Heat Shrink Tubing
Heat gun or lighter
Tools to pull both of your side covers and flasher
There are a few different hyper flash fix modules. The one I got is 2-pin and it said 12v 2a-10a. I know this one works. I cannot speak for any of the other ones. I got two for $7.88 on eBay.
Directions
Remove the allen bolt that holds the left side cover. Once removed you can pull the cover off. It is held on by a couple rubber grommets that are on the right side cover. There is a 10mm bolt that holds the right side cover on, near the rubber grommets. Once removed you can remove the allen head bolt to remove the right side cover.
There is a bracket that is held on by two 10mm bolts. Once it is off you need to locate the 6-pin connector. It should be towards the front. This is what it looks like from the back. You need to locate the Brown/White and Brown wires, as seen in this picture
Remove the Brown/White and Brown wires from the 6 pin flasher connector. They are held in by a tab. If you use a punch from the front and push it between the little and the connector you will be able to pull it out.
Once you pull the wires, connect the Brown/White wire to L (load), and the Brown to B (+)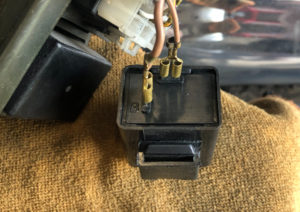 At this point you can test it. Worked like a charm for me.
Once you verify it works you can put everything back. I put heat shrink tubing on each of the connections on the Hyper Flash Fix Module.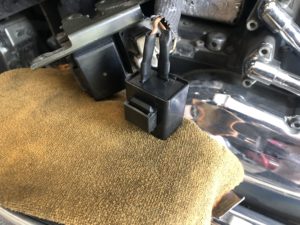 There is a spot on the bracket to hang the Hyper Flash Fix Module. Mine came with a rubber mount so it was a quick mount. You will need to pull the shield back on the wires to the flasher relay to make it work.
2004+ – Kuryakyn Triple Whammy Run Turn Brake Light Kit # 4602