LED Headlight & Passing Light Upgrade
This is a great option to upgrade your factory lights and give you better visibility all around. There are a number of options out there but I got mine from Sunpie on Amazon (chrome version). At under $100 it is a great upgrade. They come in the silver or black version. The headlight is plug and play but the passing lights will require that you adapt them to your 4.7″ buckets or buy 4.5″ buckets. Both options require minimal adaptation/modification.
Below are the details on how to install the headlight. I prepared a full page of directions on fitting the passing lights to the Yamaha light bar.
Installing the LED headlight
Remove the OEM headlight from the bucket. Once removed you should prepare a clean area to take it apart and ensure that you organize the parts that come off the headlight.
You will need to remove the headlight from the bracket.  To do this you need to remove the two adjustment screws at the bottom of the front bezel and a retaining clip. Be careful to secure the springs and the little plastic pieces that the adjusting screws go into. It would be a good idea to count how many turns you go out so that you can turn them in the same amount.
Once you have it apart from the front bezel there are three screws that secure the front of the bracket to the back.
Once you have it apart you can install the new light. You will see three notches on the back of the new light and the fit right into the back side of the bracket.
The top of the LED light should be opposite the two mounting arms. It will only fit one way, correctly. Place the front of the bracket on and use the three screws to secure it down.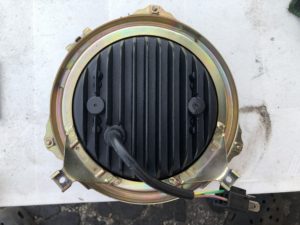 Now you are ready to mount the new light back in the bezel and secure it with the clip and adjusting screws. Be sure to put the plastic parts back in the bracket, feed the long adjusting screws through the front of the bezel and feed them through the springs.
You are now ready to mount the new light in the bucket.
Reach out if you have any questions.